Hello, dear marketers and webmasters! Hope all of you are fine 😀 Well, let me introduce myself little bit 😀  It's me Minhaj, person behind this website 😀 An Internet Marketer, Search Engine Optimizer and a Google Adsense Publisher 😀  I have over 3 Years experience on the internet marketing field.
I love to learn innovative things every moment and prefer to share my knowledge with fellow ones. That's why today i am going to share a complete guide about SEO 😀
I hope if you follow this guide rightly you will be able to learn the core concepts of SEO along with the most advanced SEO tips and strategies 😀
Super Effective SEO Tips to Rank Site on Google
Well, If you are running a new blog or website and want to get your site ranked on the most popular search engine like Google, then you have to know the core concepts of SEO.
It is most important to do SEO for your site if you want to rank higher on the search engine result pages (SERPs.) You might know that, it is somewhat impossible to get decent amount of traffic to a newly created website especially from search engines like Google, Yahoo and Bing. So, what you have to do in order to achieve this goal?
Yes, you have to do Search engine Optimization (SEO) to get traffic from search engines. Now-days, lots of sites are being created by many bloggers and webmasters around the world.
But, some of the sites have millions of traffic generating every single day and some of are not getting as much as what the they are expecting.
Reasons behind  these scenarios are- those blogger's who are doing SEO rightly and creating fresh content for their readers they are consistently getting traffic to their blog.
On the other side, those blogs which has no traffic or little amount of traffic; they might not doing SEO or any other traffic generating campaigns for their blogs.
Enough talking! I will not talk anymore about them why they are not getting traffic to their blog 😛  Instead of, I am going to tell you what you need to do to get traffic to your new created blog.  That is SEO! Alright!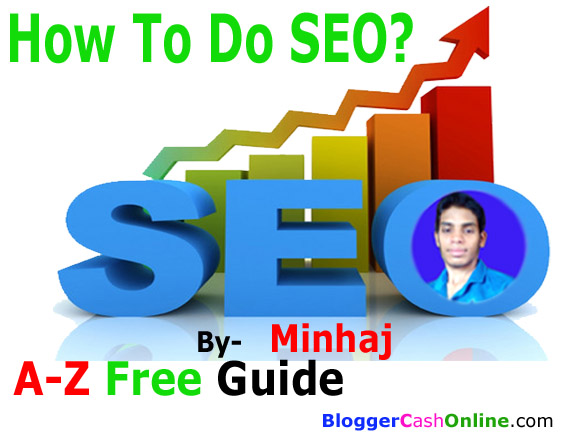 Some Basic SEO you must have to Know
Basically SEO stands For Search Engine Optimization
Firstly, lets get some ideas about SEO:
There are 3 kinds of SEO:-
White Hat SEO
Black Hat SEO
Gray Hat SEO
Again, mainly there are 2 parts of SEO:-
On page SEO
Off page SEO
On Page SEO Steps:
Let clear your mind first of all! Do not think unnecessarily about Advanced SEO strategy. Just think simply and do the work rightly. You have to think more about on page SEO especially before thinking about off page SEO heavily.  Because, on page SEO is the Heart of whole S E O word that is, Search Engine Optimization! Without proper on site optimization you can't get ranking for long time on the SERPs.
So, in the on page SEO part you have to do lots of work. Do not worry! Read this best 9 On page SEO Techniques. Well, now here I am going to explain all the things rightly here in this post!
Keyword Research:  If you do not set any goal then you cannot reach your destination. Right? Same as here, you have to think about what you are going to write.
So, here you need to select some specific keywords you are going to rank for!  For this you have to perform keyword research!
There are lots of online tools can help you out that purpose.  Some free tools are- KeywordsEverywhere, KW Finder, Ubersuggest, Keyword Reveler, Keysearch etc.
Tip: I recommend everyone to target low competitive keyword to rank easily. Do not go for competitive keyword that has high competition.
Find low competitive keywords and optimize it rightly to rank your post! So, how do you know which keyword has low Competition? Simple as that, just look over the top 10 competitors on the First page of Google. Do not over think.
Just do a search on Google with your keyword and see which sites are ranking on the First page. You do not need to browse all of the Google pages. Just have a look at the 1st Page.  See, are they optimized for the targeted keyword?  How much Domain authority and page authority, numbers of Backlink they have?
If you find there are many sites out of 10 on the first page have high DA, high PA (above 30) and lots of Backlink then, do not go for that keyword. Look for another keyword and do the same things you have done before and continue until you get any low competitive keyword to target!
Here is a full process of doing keyword research perfectly:
Title Tag Optimization: So, you have got an easy competition keyword and then the next step is to optimize it correctly in order to rank. Place you targeted keyword in the first part of title. Suppose your targeted keyword is- Best SEO Tools.  So, a title will be like this- "Best SEO tools every bloggers must know"!  Always make sure that, your focused keyword is in title.  Try to make your blog title keyword rich and more attractive. Do not repeat keyword twice or more time in title. It is very bad.
URL Optimization: Place the targeted keyword in the URL tag also. But, try to make it short as much as you can.  A good URL is like- bloggercashonline.com/best-seo-tools.html
Do not put lots of keyword in the URL, because it is considered as bad optimization.  Research has found that post which is optimized in short URL format ranks better than any longer URL. So, Why don't you take this Golden opportunity as well:-D
Image Optimization: An Image talks more than text. Right?  Using image on post makes it more compelling and attracts the readers to stay long time on blog. Image optimization is one of the most important parts of SEO. You have to do it rightly. It is very simple.
If you are using WordPress CMS then it makes you easy to do this task.  What you have to do, in Alt text you have to place the targeted keyword. Look, here is an example: – best-seo-tools- JPEG. You can also add some keyword variation to get rid of over optimization. Read this article to know the tips of finding free images from google advanced search.
Heading Tags:  It is very effective if you place your keyword in heading tags. Try to put the keyword in heading tags one time. You may ask me then, where is the H1 tag? Yes, your post title is the H1 Tag! Just sprinkle some related keywords along with main keyword in every single Header 1, 2, 3 tags.  But, always keep in mind that, do not over optimize it by putting lots of keyword unnecessarily.
Internal linking: Internal linking means, while writing your post, make sure to link some relevant post inside your content. Suppose, you are writing a post on- best laptop computer. So, in this post you just link another post which is about cheap laptop bag. So, whenever people read your post, they may also click on other link to know more. By this way, readers will stay long time and your site ranking will increase. That's why internal linking is one of the best on page SEO strategies in 2020.
Optimize site loading speed: This is one of the crucial factor of on page seo. Google likes the website which load very fast. If your site takes very long time to load, then visitor will not visit your site anymore. They will click on the back button and will leave your site. And, if it happens, then it is the red signal for your site, because Google hates such kind of slow loading sites. You will not perform well on the search results. So, try to use light and clean theme, and use less plugins, do not make your site heavy by using too much ads.
Make sure to read this awesome article about boosting website loading speed!
OFF page SEO Steps:
Then we have come on this part. I have said earlier that on page SEO is the most important part of SEO. It is true also. But, we cannot ignore the importance of off page SEO. At the end of day, Backlink is still needed in order to rank. You have to take backlink from relevant sites to get better results.
Relevant mean, the same industry you are on. For an example, your blog is about blogging tips related, so you have to take link from others blog which is talking about blogging related content. Just keep relevancy and see how amazingly your link works than lots of link from irrelevant sources.
Off page seo techniques: Don't avoid these 6 best off page SEO tips
So, from where you should start your link building mission?
Well, here I am going to discuss about this from very beginning and basic level which a newbie can definitely understand.
Niche Relevant Blog Comment: At first it seems easy to do and effective too.  It is not much necessary to define what exactly blog comment is? Everyone know it, Right?
So, moving on! All you have to do is find some blog and leave comment on it and link back to your site. Simple! But, one thing you have to keep in mind that, to get effective results you have to find some relevant blog related to your niche.  It is very important that you can't ignore. So, how do you find those niche relevant blogs to make comment on?
You can use lots of foot prints for this.  Here is an example- "blogging tips"+ leave comment
Search it on Google and you will get tons of sites where you can make comment. Simply, use your keyword in between the "-"marks.
If you feel complicated with the above method then, there are so many tools which can help you to get your work done easily. Take a look at this tool- Dropmylink.com
Just go to this link and register an account. Put your keyword in the empty box and select the option below what types of link you want to make like comment Luv and so on, and on which platform you are interested to leave your comment.
Quick Notes on Blog comment:
Only make comment on High DA (Domain Authority) and PA (Page Authority) Blogs.
Leave comment only on your topic related blogs.
Do not submit comment on irrelevant blog.
Avoid commenting on blog which have huge spam comment already.
Use your Real name and Photo while commenting.
Do not leave your blog link directly in the comment box. (It's spam)
Get more blog comments: 4 Proven Tricks to get flood of comment
Niche Relevant Forum Post: This is an old technique which is still effective if you do it rightly. I see lots of people say, forum posting does not work. Yes, it's little bit true. But, the logic behind saying that it won't work because; going to spam with hundreds of forums at a time and blast the link on irrelevant treads on forums won't make it happen. You have to go for quality and relevancy. Always keep in mind that, only quality matter here. Not quantity.
So, find some forums which are much relevant to your blog and register one by one.  At least register on 10-13 Forums, you may register more but I doubt you can't active on all of these forums at the same time.
DoFollow 101+Forum posting sites list in 2017 high PR 9-2 Free
Quick Notes on Forum Post:
Only Join on Niche Relevant Forums.
Try to be active and always be helpful to others.
Put your website link on "signature" in profile section.
Do not leave your blog link here and there on forums.
Quality Directory Submission: It was one of the oldest off page SEO techniques used a lot to rank higher on the Search Results. People spammed it so much that lot's of directory got deleted from internet forever as Google considered as spam. So, you might be asking me, why I am still going to talk about it? Well, your question will not remain as question!
Let me share a little experiment I did few days ago on one of my blogs.
I build some backlink from High DA and PA directory which were relevant to my niche. And, the results were really good. I was able to rank my keywords top on the SERPs. So, why it worked? Yes, it worked for me and I still believe that it will still work if you do it rightly.
So, find niche relevant directory with high domain authority and page authority. You can get lot's of Directory sites just by searching on Google like- "Blogging" + Directory
Replace "Blogging" with your niche related Keyword to find niche relevant directory online.
Here is a great list of directory submission sites for you, take it now quickly-
NEW Top 300+ Free High PR Directory Submission Sites List 2017-18
Quick Notes on Directory Submission:
Do not use same Title and Description on every Directory submission.
Do not submit on hundred Directories in a single day.
Try to get link from niche relevant industry only.
Submit your site on High PA and DA Directory.
Avoid auto approval Directories if you can.
High Quality Social Bookmarking:
Social bookmark means, submitting your blog link various social bookmarking sites. It is very effective if you do it rightly. There are lot's of social bookmarking sites available where you can bookmark your site and make Backlink.
Some Tips on social bookmarking:
Always try to bookmark your site on high authority bookmarking sites.
Do not submit your site on low quality and spam sites.
Make sure to use different title and description for each post while bookmarking.
To get effective results you must bookmark your site on your niche related bookmarking sites.
Web 2.0  Submission:
It is also a great off page SEO technique to get quality backlink from various web 2.0 sites. There are lot's of web 2.0 sites but you don't need to go through all of them. Here i have listed some  high quality web 2.0 sites, register here and place your website link inside the web 2.0 article.
Document Submission:
Online document sharing sites are really very useful to make some quick backlink. It works very great when you submit on niche specific sites with relevant information. To know more about document submission you are very welcome to have a look at this great post:
Free High PR Dofollow Document Sharing Websites List 2017-18
Creating Profile Backlink:
There are lot's of sites where you can create account and place your website link on profile section or bio section. You can also take this opportunity to make some handy backlink which is really great to diversify your backlink profile. Go thorough the following article below to know more about profile backlink building techniques.
Get High PR 3 Dofollow Backlink easily in just 1 Minute-Completely Free
SEO is a process to optimize website perfectly in order to get listed on search engines. So, SEO is getting updated in every single day.
Everyone whose doing SEO task should be updated with the latest SEO to know more about it. Google is getting smarter day by day. So, while making your site SEO friendly, you should follow the latest updates from google and other sources.
Hope you have got this Search Engine Optimization guide very useful. If so, then do not forget to share with your friends on social media sites like Facebook, Twitter, Google+ and so on by clicking on the social buttons below right now 😀