Content marketing best practices: Content is the main part of your blog. If your blog content is not more valuable to your blog readers then you can not able to drive more traffic to blog daily.
And, it is not all to write content on blog and sit back for getting people to read your content. Besides of creating high quality content and making SEO friendly you also need to promote your content around the web.
More-
How to increase traffic on blog | Top working methods to get 1000+ traffic daily to your Blog easily!
Because, a lot of blog and content are publishing daily and it is some hard to compete with them if you do not know how to do!
So, simply you need to follow Content marketing best practices for promoting your blog online and for getting more blog readers daily.
You might be wondering:
How to promote content effectively?
Yes, you need to understand your audience and think about yourself where your audience stay more online.
You may love:
If you able to find the source where your audience hang up all time for searching information, then you can get more traffic coming to your site by promoting content effectively!
Well:
In this article i am going to show you some effective Content marketing best practices which you can implement for  increasing website traffic fast!
By only following these content marketing strategies will not give you results. You need to implement correctly and keep experiment which works best for you!
So, without wasting time lets go…
10 Content marketing best practices for your blog.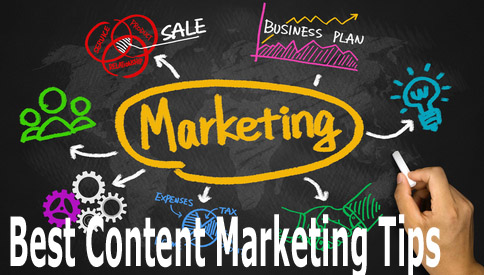 1. Make Article Title More Catchy:
When you write article for your blog then try to make your article headline more attractive. Off-course, besides of making article title SEO optimized you also need to make title more clickable. Because, research has shown that most of readers look first at the headline of a post! They look through article title first and try to get idea about that article.
So, how to make an Article title more Catchy?
Yes, to make article title more catchy and more clickable you need to follow some headline hacks!
What?
Following headline template and implementing it on your article you can get Superb results!
Read this article below to know the strategy –
Grab 101+ Headline Formulas to Boost your blog traffic Fast like A Boss
2. Promote your content on niche related Communities :
For better content marketing it is a good strategy to reach out your audience and share your content. By this way you can get more exposure of your content. So, how do you find them?
If you write a content about blogging tips, then it will be good to connect with bloggers and share your content. And you can also join all blogging communities and share your content with community members. Besides of that you can use search engine to find more niche related online groups, communities, forums and so on!
3. Use "Sulia.com" to Promote Content:
Yes, you should not neglect this source! Sulia.com can be a good source to promote your content online. Use Sulia and it allows to share your content with interest based person.
To share your content on Sulia you need to create an account.
After creating account then select your niche related category to promote your content.
For example, if your content is about "make money online" then write a headline or a post snippet and share your content link telling people to find more about your content by following this link!
Yes, it works!
Anyone interested with "make money online"  will get alert and read your content what you shared on Sulia.com!
Find the best use of Sulia and you can able to promote your content online more effectively!
Content marketing best practices to follow
4. Tumblr's (90 Million Users) can be a great source:
Promoting your content on Tumbler.com you can get more online exposure for your content. What you need is to build up your own tumbler blog. Use SNAP plugin  and syndicate your blog content.
Using Tumbler can get you more benefits because it ranks well on the SERPs. Do not miss out this good opportunity because Tumbler.com has over 90 million and it make sense you can get good results.
To know more about promoting content on Tumbler you can see this this video from LazyAssStoner.
5. Make Interesting  Info-Graphics:
Info-graphics attract more readers than text. It is also a great idea to turning your content into info-graphics and bring more traffic to your site! So, to make interesting info-graphics you can use some online free sites like-
Vizualize
Easel.ly
Infogr.am
Visual.ly
Piktochart
Google Charts
InFoto Free
Venngage
Dipity
Info-graphics go viral fast and by this way you will able to attract more readers and it will last for long time.
For getting more good results in content marketing you can also submit into Info-graphics submission sites below-
Visual.ly
Daily Infographic
Cool Infographics
Infographics Archive
Infographic Journal
Visual Loop
Flickr
Pinterest
 Best Content marketing tips for blog
6. Use Twitter Marketing Strategy for Huge Traffic:
Yes, promoting content on twitter is also a best content marketing practice to promote your content online. Twitter has million of users and it is increasing day by day. You should not avoid this best traffic source.
For better twitter marketing strategy you need to follow some of your top niches blog or person. You can also use your own twitter account for content marketing. You need to build huge follower based account. Always try provide valuable information to your audience.
And following top person on your blog niche is a good strategy to get good response by witter marketing. Because you know that they have more followers and if they re-tweet one of your content then it can help you to reach out more readers easily.
7. Promote content on Reddit Effectively:
You know that Reddit.com is the front page of Google!
Think a while!
If one of your content get top position on the front page of Reddit then there is a huge chance to get more readers to your blog!
By promoting your content on Reddit can help you to go your content viral. It can be a good source to reach more audience by using Reddit marketing correctly.
I notice that many people say they do not get good results in Reddit marketing.
No! You will not get result if you try to play smart! Submitting your link blindly on Reddit will ban you.
So, for better content marketing you need to choose only niche related sub-Reddit. It is a good idea to select niche specific sub-Reddit and submit your link. You need to earn Karma for getting more value.
So, create high quality content with catchy headline and submit link on correct sub-Reddit to get good results on content marketing effectively!
Useful content marketing tips for blog marketing
8. Promote on  Niche Based Active Facebook Groups:
You already know the power of Facebook. Yes, Facebook can be a great place to promote your content effectively. You can promote content by Facebook marketing.
Creating your own Facebook page you can also promote your blog content.
Search for niche related Facebook groups and join some of active Facebook groups. And after getting approval by group admin try to make good relation with them.
Because, if you post your content on Facebook groups without adding more value you will not get good results. That's the main reason why most marketer shout they not get good results.
Being active on Facebook groups and providing more value on groups will help you to build trust to others.
And by engaging them with valuable content you can share your content on groups and see the results!
So, select some most active nice related Facebook groups and promote your blog content effectively.
Here is an Excellent article you can read for getting Huge Facebook groups list and more Tricks too!
9. Use Email Marketing to Promote content:
Email marketing is also a best practice in 2018 for content marketing to promote your content online. Email your blog subscriber with your content and tell then that you have bring something new for them! When they will show your mail in their inbox they will definitely visit your blog to know more if you prove valuable content!
If you are not building your own email list then you are missing out great opportunity on your online business. Because, by email marketing it will not help you to promote content but also help you to get returning traffic.
If you are serious about content marketing than start to collect email from your blog readers. You can use so many plugin and install on your blog which can help you to collect email from your blog readers.
Ask readers to subscribe to your blog to get new updates directly to their mail inbox!
And, for email marketing you can use so many online tools like
You can follow some strategy to collect email from readers like offering then something valuable and tell them to get it by subscribing your blog!
There are so many email marketing tips you can follow. I will write on my blog about email marketing tips soon!
Best content marketing tips in 2018
10. Re purpose Your Content into PDF:
Re purposing content into PDF is also a best content marketing tips! Re purposing means presenting your content in different ways like- turning content into E-book, creating video, making power point presentation, making podcast etc.
So, create a PDF version of your best performing content which you want to promote online.
To make your article into PDF you can use lot's of online sites or you can use a Google chrome extension.
Well, After re purposing some of your best content in to PDF then you need to submit into PDF directory. Here are some of directories below you can use for submitting your PDF version content.
Scribd –           Page Rank-8
Slideshare –     Page Rank-8
Issuu –             Page Rank-8
Mediafire –       Page Rank-7
DocStoc –        Page Rank-6
4shared –         Page Rank-6
Author Stream – Page Rank-6
Esnips –           Page Rank-6
Slideboom –     Page Rank-6
Rapidshare –    Page Rank-6
Calameo –       Page Rank-5
Edocr –           Page Rank-5
Slidesix –         Page Rank-5
WePapers –    Page Rank-5
MyPlick –         Page Rank-5
HotFile –          Page Rank-5
Easy Share –   Page Rank-4
PDF Cast –      Page Rank-4
There are so many content marketing tips available i will try to write on my blog if you love this one.
Always remember that, creating only content will not help you to give best results to get more traffic to your blog.
Besides of creating high quality content you need to promote content in different ways by following best content marketing practices!
Again, you will not reach your goal by only following but you need to implement your work correctly!
Hope you got some good ideas about content marketing and also loved some best content marketing tips from my article!
Will you please share some of your best content marketing strategy with us?
Which best content marketing practices you are following in 2018 for your blog?