Are you really tired to increase your blog traffic? Not getting much blog traffic? No tension! Read this entire article if you seriously want to learn about how to increase traffic on your blog.
We all are aware to earn money doing blogging. But some people are making good amount of money by doing blogging successfully. And, some are not able to earn expected money what they want!
Do you know why? Yes, you guessed rightly! It is not easy to earn expected money by only writing content. You need to get good number of traffic to make some lavish income from online blogging. I have written an awesome post about how to start a blog for free and make money from it in my previous blog post which you can read it now!
More:
Hot Tricks To Increase Website Traffic- 10 Surefire ways Available for You!
How to Increase Traffic to your blog Easily
In a nutshell, the main thing is to firstly drive huge amount of traffic to your blog and if you can do this successfully, then, you are assure that, you can also earn good money by converting blog traffic into cash! Is not it much enjoyable?
So, your main and the only one target is to increase more traffic on blog as much as possible to reach the goal.
Ok, if you are a new blogger and not getting more traffic then, i suggest you to read this post with more patient!
To get 1000+ traffic on your site you may follow these ways listed below and you know that it needs hard work!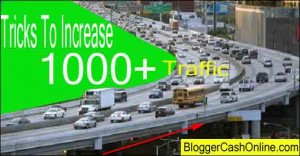 You may love:
Good Group Chat Names ~ Cool 1000 + Unique List For WhatsApp and Facebook
How to drive traffic to blog from Facebook
1. Drive Traffic from Facebook:
There are a lot of social web-sites to share the post of your blog on these platforms.. Facebook is one of the top social networking sites generating a great number of user daily!
At first, Create an account on Facebook.com and start to make good connection with  people. But a little secret here is that, do not make anyone friend, try to make friend who is also a blogger and eager to read your blog.
Let us look below how Buffer app gets good referral traffic from facebook only-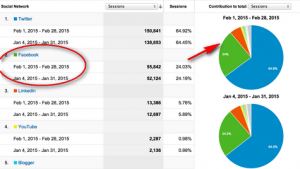 Just guess it yourself what kinds of people have more interest to read your niche related topics.
Suppose you have a blog related blogging tips, then you should try to share your blog who love blogging and also he or she is a blogger. Remember this, if you expect to get good results you should engage your audience first!
Well, Let's do a crazy calculation here!
Say, you have 2000+ Facebook friends on your ID. You share site link with them. And among all facebook friends, we can assume that, at least about 50 friends will share your post to their friends too if they are like minded. Right?
By this methods, you can get more readers coming to your blog! It is not a specific calculation. You may able to get more or less which really depend on your work!
You can also increase traffic on your blog by joining some targeted and niche based Facebook groups which perform very well in blogging niche!
Recommend-
Share Your Blog On Over 500 Facebook Groups in Just 6 Seconds- Super Ethical Trick
* Make sure to Join topics related groups as much as possible.
* Always, try to share your best and killer article on these targeted Facebook groups regularly.
* Share only interesting article on Facebook groups multiple times on a regular basis. But, you should mind that, not to spam!
You may firstly join 50+ Facebook groups to maintain it properly.
Recommend-
Top List of Facebook Groups to get more Referral Traffic to Blog-How it works
After getting approval share your latest best article on these 50 groups.
* You may, share 2-3 interesting articles on these 50 groups daily.
Continue the process rightly and you will see the good flow of traffic to your blog day by day.
Recommend:
How to drive more Traffic to your website Fast-  Know the Super Effective Methods
How to Get traffic on blog from Pinterest easily
2. Get traffic from pinterest:
Driving traffic from pinterest platform is easy if you follow some tricks! You may know that Pinterest is a good source for driving a lot of web traffic effectively! Is not it?
I am receiving more traffic from pinterest daily. What I usually do is to share only interesting Content with them. Do not just share any kind of post or which is not relevant to your audience!
You might know that, there are about  80% of pinterest users are female! I wan to say you, always make interesting content which avail to attract specially the female users! It is a crazy idea to drive more traffic on the website from Pinterest what I know. But it works!
You must remember that, have a Pin Button in your site so that readers can easily pin your post if they like it!
How to Drive traffic to blog from Social Bookmarking sites
3. Increase blog traffic by doing social bookmark:
It is also a good way to increase your blog traffic by bookmarking your every blog post. There are many social bookmarking web sites available where one can create account and bookmark blog post or web link easily.
But, always Dofollow social bookmarking sites works good for SEO. So, bookmark your blog post on different dofollow social bookmarking sites and enjoy some free traffic to your blog daily!
Always mind, spamming is not allowed. If you do, you will get ban your account!
* For example, you share your blog link on 50 bookmarking sites. Sharing on 50 bookmarking sites you can get at least 50 traffic. (50*1)
If your post is well written and most shareable then there is high chance to get share from more readers. At least, out of 50 peoples only 25 peoples also share your content then it can turn you 2 readers for every share you get. Now there are 50 more readers you get! (25*2)=50 visitors easily!
Thus ways you may able to get about 100+ visits by sharing a single article only!
Recommended to you:
Download APK pname com Marvin Talkback

Actually it is  not a specific calculation i made. It only depends on the quality of your content and how much active you are on this!
So, we can also assume that, we have around 50+ more killer articles and we do the same process then we may get good amounts of traffic to our site which is free!
If you able to create more killer and shareable articles and take proper promotion you can get good blog traffic without any hassle!
Get the awesome collection Now:
NEW Free High PR Dofollow Social Bookmarking Sites List In 2017
How to increase traffic on blog – Forum Marketing Tips

4. Increase traffic by Forum Marketing:
Forum posting is a good strategy in blogging world if it done rightly then, forum marketing works amazingly. Just read the following article increase traffic on your blog by Forum Marketing. There are many online forums you can join. But it will be wise to register on niche related forum for best result. By registering on forum you can put your blog link on the signature. That will not only increase traffic but also increase your site ranking on the Search results too!
Recommend-
Download 101+  Dofollow High PR 9-2 Forum Posting sites list in 2017
So, join forum and engage other members by asking relevant question or replying detailed answer! Firstly you can join 2-3 niche related forums and start building forum profile with attractive call to action to come on your site by signature link you left. If you do this, you will get direct traffic from forums. One more thing I would say you is,  do not spam here!
Best ways to do blog commenting for Referral Traffic
5. Get traffic doing Blog comment:
Yes, blog commenting woks if it done correctly. You may able to drive traffic to your blog daily by commenting on others blog rightly!
But wait for  a moment:
You may know that, blog commenting does not mean doing spam here and there. For getting good results by proper blog commenting you should follow some effective tips i listed below!
1. Firstly find some high PR blog related to your blog niche. If your niche blogging, then search on google like as- "Blogging "leave a comment"
You can too use the search formats like below-
Your blog niche "leave a reply"
Your blog niche "leave a comment"
Your blog niche "enable CommentLuv"
Put Your blog niche "This site uses keywordLuv"
Let's get  ready to go for commenting on some of these blog and always do relevant comment!
Here is also a detailed  article you can read for getting high PR CommentLuv enable sites for blog commenting effectively!
Recommend–
Boost Your blog Traffic| List of 100+commentluv sites For Instant Traffic
There are more tips you can implement for increasing more traffic to your blog right!
I think you enjoyed the post how to increase more traffic on blog very much. If you have got the article helpful then share it with your friends to help them to know about increase traffic on their blog too!
Bookmark my blog (CTRL + D) to come back again and learn more about blog traffic driving tips and tricks completely free!
First pub: 5 may 2015