How to promote your business on facebook: I see many guys are selling this service on Fiverr for 5$. But I am here to give you this trick completely free! Just read the post patiently to understand how it works greatly!
Posting on many Facebook groups at a time is much time consuming. Is not it? You need a lot of work and time to post website link on multiple groups like as if we say over 500+ groups manually.

You might be wondering:
Where to promote my blog post?
Isn't there any way to do this easily which might work?
Why not!
You can post on multiple groups with a single click!
I have tried this trick and now sharing this great trick with you as you are my blog reader and hope you will visit this blog regularly to get such kind of excellent post! Do you?
Alright!
How to promote your business on facebook?
By promoting your business on facebook groups you cat get more traffic to your site to sell anything!
Ok, now i am going to show you how to promote your blog on multiple facebook groups easily with a single click! Right?
Recommended Posts-
Explode Amazing FREE website Traffic Now! – Grab 50+ Headline Templates Quickly!!!
How To Start A Blog For Free And Make Money From doing blogging the Right way- Best Guide for YOU!
Steps for posting on multiple facebook groups at once-
How to promote your blog on facebook
First step: – Create a new Gmail account instead of using your personal account. (I think it is good to use different Gmail account)
Second step: – And, now create a facebook account using this same Gmail account address.
Third step: – Join as many groups you want for promoting your content. (I think firstly join about 50 groups related to your niche.)
It is good to share your site link on related groups for best result. You can join more!
How to promote my business on facebook?
Wait some days for getting approved from group admin. (Don't worry if you not get approve from all these facebook groups)
Fourth step: – After getting approval log in your facebook account and go to groups section.
Fifth step: – Now open each group and copy the link of all facebook groups you joined and paste all URL in on notepad or MS Word.
Now you need to find email address of all these facebook groups you collected!
How Can I Get Any Facebook Group Email Address or username?
Well:
Let's see-
If facebook group address is –
https://www.facebook.com/groups/bloggersworldwide/
Then the username will be- bloggersworldwide

Another example for you for easy understanding-
Facebook group address –
https://www.facebook.com/groups/45708766174/
Username will be- 45708766174
 How to promote your business on facebook
Tip- Always look last name of group URL I hope you got the idea!
And now your turn to add all these groups user name before-
@groups.facebook.com
Here is an example-
bloggersworldwide@groups.facebook.com
45708766174@groups.facebook.com
It will take some time to do this job for first time only!
Ok, now it's time to compose a mail-
How to promote your blog on facebook?

Six step: – Log in with your G-mail account which you created for your facebook account also.
Firstly– click "create new message" and now putt all the facebook groups email address in BCC field with comma (,)
Secondly– Write a small text related your content and put that web link to send on all these groups!
Finally– just press send button and you are done!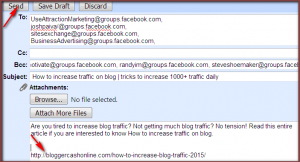 Hurrah! I have done my job successfully!
You may love post:
How Can I Get A lot of Traffic To My Website for FREE | Hot 6 Best ways you should know!
Are you still asking-
How to promote my business on facebook?
I think it takes a few seconds to share your link in all of these facebook groups! Isn't it amazing!
I know- it will take some hour to collect and merge facebook groups email address first time only.
But- next time it will take only a few seconds to press send button! Am I right?
Where to promote your blog-
Best Trick you can follow-
To know how much click you are getting on link you can use Bitly.com which will keep track when someone click on your link from all these Facebook groups!
An advice you should consider-
It's my personal opinion-
It's not wise to send your website link on lots of groups at same time.
Try to send about 50-100 groups, after sending then go for another 100 facebook groups email address if you have a lot of email address!
 How to promote your business on facebook
Suppose you have 500 facebook groups email address. Try to do it dividing 5 times 100 groups separately.
Follow this and you will be safe!
Well:
Let me know are you using this technique?
Did you enjoyed article "How to promote your business on facebook groups easily"
Do you have list of Facebook groups to share your link?
Do you need over 500+ facebook groups and email address also?
Let me know it I will definitely try to help you!
Bookmark this blog to know more ethical Tips and Tricks!