Best Free Blog Sites For Beginners: Searching for list of free blog sites to start a blog? Are you a beginner and expecting to learn how to start blog and make money?

Well:
In this article i am going to share some of the blogging platforms  where beginners can start their blog easily, write blog post and make them SEO friendly and rank well on the search results and increase more traffic to your blog to make money from blog online. Free personal blog sites list

No need to go through all the platforms to create blog but what you can do is to choose just one best blog site and start blogging. (I highly recommend you- select blogger.com or wordpress.com as you are wanting free)  So, here are some top list for you to create your own blog online now! Popular Personal blog sites

Top 10 Best Free Personal Blog  Sites for beginners to start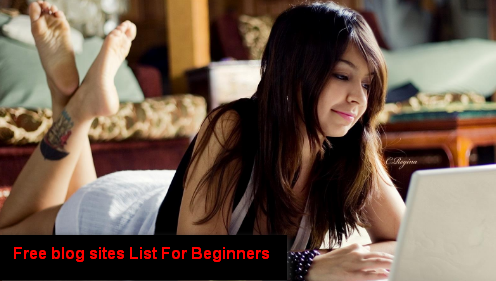 A free blogging sites for blogger is WordPress.  It has about 43 rank according to similar-web rank and the Alexa rank of wordpress is 35 (It's updating day by day) It's all features of site are free you can use. (There are some paid features available). You can get about 250 themes free. (Can also download many more) About more than 61 Million users use WordPress.com platform. WordPress.com is  free for up to 3 GB of space and unlimited bandwidth. It can be a good choice to start blogging online!
Yes, blogger.com is also an awesome blogging platform and it's free! The founder of blogger.com is  "Pyra Labs"  but it was bought by Google.com in the year of 2003.  The Alexa rank of it is 99 and similarweb rank is =165. It can be the best choice for you if you are searching best free blogging site to make own blog! You can use 100 blogs per account. Isn't much interesting?  It's storage is 1 GB and unlimited bandwidth. This platform is very easy to use. It has good features with professional look. You no need to buy templates or widgets etc.
Free personal blog sites
Definitely, wordpress.org is a good platform for doing blogging online. It is similar as wordress.com with awesome features. You can create your desired blog by using it's new upcoming cool features. WordPress.org specially designed for profession works. It serves good user experience for better building your blog or site. The new looking of wordpress.org is excellent which can be your best choice on building beautiful blog!
We listed tumbler on serial 4. Tumblr.com is also a social networking and microblogging platform which is free. The founder of Tumbler.com is David Karp in 2007.  Alexa rank of Tumbler is 33 and according to similarweb rank is 31. You can make your micro blog using tumbler. It has about  234.1 Million Total Blogs empowering.

Popular personal blog sites



Top free personal blog sites for beginner bloggers
Weebly is also a best blogging platform based on California. It is available in about 11 languages like- French, Italian, English, Chinese, Dutch, Japanese, German, Spanish, Portuguese, Turkish and Russian. Alexa rank of weebly is about =254 and accordingly to similarwebrank =282.  It gives choice every one to start blog, store online and design blog with their needs. Weebly has been featured in Newsweek, Entrepreneur Magazine and The Wall Street Journal.
Popular personal blog sites
You can also make your own blog by using Hubpages. Actually it is a revenue sharing site. This platform was founded in 2006. Alexa rank of Hubpages is about = 1,676 and  Similarweb rank is about = 3,421. It has about 30+ million users.You can share your knowledge by creating your blog site on hubpages.com and it's free for you. It also offer awesome feature to user.
Hubpages.com can be a good choice for beginner to start a blog online.
 Free personal blog sites list Most Popular

Joomla.org is an award winning free blogging platform which can be a good choice for beginner blogger to start a blog online. You can create profession blog using Joomla.org freely. Alexa rank of Joomla.org is about = 1,118 and Similarweb rank = 5,320 is about  You can download this Content management system and it's Size – 10.5 MB (compressed). It is a free open source software to build a dynamic good looking blog site. It is also SEO friendly which can help you to rank better on Search results.
Wix.com is also a good blogging platform for beginners to start blog. Is has about 229 Alexa rank and about similarweb rank is =233. It was developed by 3 persons Nadav Abrahamiwas , Giora Kaplan and Avishai Abrahami in the year of 2006. By using Wix drag and drop tools you can make mobile or HTML5 wsebsite easily. The total users of Wix is about 60 Million and increasing day by day.
 Popular blog sites for beginner bloggers

Yes, it is also a good blogging platform to create beautiful blog! The alexa rank of  Squarespace.com is =542 and Similarweb rank is about= 1,975.
Firstly Squarespace was founded by Anthony Casalena in 2003 and later was founded by Index Ventures and Accel Partnersn. It has excellent features which can help you to build a nice site. You can customize it with our own needs too.
The best free blogging site is  Blog.com. Alexa rank of blog.com is about 1,743 and Similarweb rank is about = 2,121. It offers many features for blog owner and make easy to use. It has also paid features available. Blog.com was developed in the year of 2004 and it's developing more day by day.
 Most popular

Free personal blog websites
I think you have founded article about best free blog sites for beginners more useful. So, i hope you can now create your own blog by using these best free blog sites easily.
If you are beginner blogger and facing problem while starting a blog and making money from it then just leave a comment below with your problem, i will definitely help you! Free personal blog sites popular